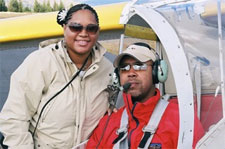 Scenic Glider Ride (Soaring) >
Join Sierra Adventures and fly like an eagle over the majestic Sierra and Lake Tahoe.
Intro: Oh, to swoop and glide through the air with the grace of an eagle. The best glider pilots in the world come here to experience the world-class soaring conditions of the Sierra. This adventure is a must for all ages seven to seventy; no experience required for those who want the unforgettable experience of flying like an eagle.
The Tour: Your soaring adventure begins with a complimentary shuttle pickup at any local hotel. We feature several options available in flight time, ability and flight scenery.
The Cost: Pricing is structured by group size, length of activity and type of tour. Packaged price includes planning, equipment, transportation, guide service, food and beverage, and any tickets required. Go to the Sierra Adventures price list for the latest information, then pay a deposit to secure your trip.
Dates and Restrictions: Activities offered by Sierra Adventures are subject to seasonal restrictions, weather cancellations, and your physical limitations. Call our toll free number - (866) 323-8928 - for more information. Remember to include your email and/or fax number so we may provide package updates, blackout dates or specific information related to your adventure.
Suggested Clothing and Gear: Loose Fitting Clothes / Wind Breaker.
Soaring over Lake Tahoe