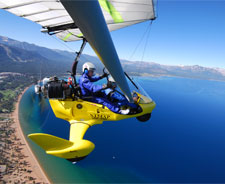 Powered Hang Glider Ride >
Join Sierra Adventures and soar like an eagle over the glorious mountain landscape.
Intro: Welcome to our most unique adventure. We feature world class pilot Paul Hamilton, who will take you on a magic carpet ride aboard his micro-light aircraft, powered by a fan-type engine. It takes off and lands like a small plane, so no jumping off cliffs or mountain sides. This is by far our most breath taking air adventure, over one of the most scenic areas in the world.
The Tour: Your unique adventure starts with a pre-dawn weather check (done by us), followed by a confirmation phone call to your room. If the flight is confirmed, our complimentary shuttle will pickup at any local hotel. Pickup times vary with the seasons. Hang gliding is always weather sensitive, requiring calm wind conditions. We make it easy by doing the weather checks and the driving. We provide a continental breakfast en route to the flight area.
The Cost: Pricing is structured by group size, length of activity and type of tour. Packaged price includes planning, equipment, transportation, guide service, food and beverage, and any tickets required. Go to the Sierra Adventures price list for the latest information, then pay a deposit to secure your trip.
Dates and Restrictions: Activities offered by Sierra Adventures are subject to seasonal restrictions, weather cancellations, and your physical limitations. Call our toll free number - (866) 323-8928 - for more information. Remember to include your email and/or fax number so we may provide package updates, blackout dates or specific information related to your adventure.
Suggested Clothing and Gear: Extreme Cold Weather Clothing / Winter Boots / Sun Glasses / Gloves / Wool Hat / Binoculars / Gortex or Thermax Underwear.
(Photos and video courtesy Hang Gliding Tahoe and Adventure-Productions.com.)
Hang Gliding Tahoe - Fantastic Views of Lake Tahoe's Beauty
Hang Gliding Tahoe in Winter - Staying Warm