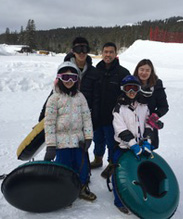 Snow Tubing Adventure >
The whole family will enjoy snow tubing with Sierra Adventures.
Intro: Winter adventure with excitement and pure enjoyment! A fun-filled, inexpensive activity for family and friends, we take you to the best area suited for your group. Areas range from simple natural slides to complete automated sledding parks with lifts and groomed runs.
The Tour: Your snow adventure begins with a pickup at any local hotel. We will help your group with any rental needs, then shuttle you to your favorite activity. As you go up a tube lift, you'll have different carved tubing lane options! Tube lanes that are designed to maximize your fun! Snow tubing can be combined with other activities through advanced booking.
The Cost: Pricing is structured by group size, length of activity and type of tour. Packaged price includes planning, equipment, transportation, guide service, food and beverage, and any tickets required. Go to the Sierra Adventures price list for the latest information, then pay a deposit to secure your trip.
Dates and Restrictions: Activities offered by Sierra Adventures are subject to seasonal restrictions, weather cancellations, and your physical limitations. Call our toll free number - (866) 323-8928 - for more information. Remember to include your email and/or fax number so we may provide package updates, blackout dates or specific information related to your adventure.
Suggested Clothing and Gear: Sub-Zero Winter Gear-No Cotton! / Wool Hat / Gloves / Shell Parka / Goggles / Gaiters / Water Proof Boots / Thermax-Gortex Underwear / Dry Towel / Change of Clothes.