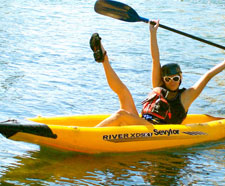 Kayaking Truckee River Tours, Clinics & Lessons >
Join Sierra Adventures for our kayaking clinics and tours, right on the Truckee River in downtown Reno. Visit the Adventure Desk for more information about river equipment rentals and kayaking lessons.
Intro: Kayaking is fun and exciting for the whole family. Try our state of the art single inflatable kayaks on the Truckee River. We feature intro tours for family or corporate groups, from beginning to advanced runs. Participants will truly enjoy the serenity of the snowcapped Sierra while floating over the churning snow melt of the Truckee River.
The Tour: Your kayaking adventure begins with our complimentary shuttle pickup at any local hotel and ride up river. Smile with excitement as you ride the river gallantly downward, back to our kayak center in downtown Reno. On the way, listen for the chatter of mountain quail, meadow larks, and blue jays. Each breath brings the aroma of sage, pines, alfalfa, and wood smoke. This is a day contrasted by breathtaking scenery, exciting rapids and local floral and fauna. We make it fun and easy by doing the driving, providing great guides, and serving beverages en route to the staging area. Plan on day of excitement!
The Cost: Pricing is structured by group size, length of activity and type of tour. Packaged price includes planning, equipment, transportation, guide service, food and beverage, and any tickets required. Go to the Sierra Adventures price list for the latest information, then pay a deposit to secure your trip.
Dates and Restrictions: Activities offered by Sierra Adventures are subject to seasonal restrictions, weather cancellations, and your physical limitations. Call our toll free number - (866) 323-8928 - for more information. Remember to include your email and/or fax number so we may provide package updates, blackout dates or specific information related to your adventure.
Suggested Clothing and Gear: Sun Block / Sun Glasses / Change of Clothes / Hat / Water Booties / Swim Gear / Towel / Water Gloves / No Cotton Clothing.