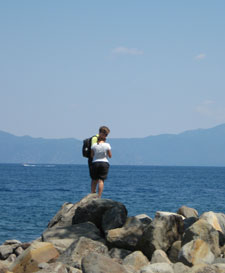 Kayak Lake Tahoe >
Join Sierra Adventures for kayaking and sunbathing at Lake Tahoe, America's most beautiful alpine setting.
Intro: Kayaking is fun and exciting for the whole family. This adventure lets you see the Lake Tahoe Basin from out on the water, then gives you the opportunity to bask in the crisp, clean High Sierra sunshine. Participants will truly enjoy the serenity of the Sierra landscape while paddling the crystal clear waters of Lake Tahoe.
The Tour: Your kayaking adventure begins with our complimentary shuttle pickup at any local hotel and ride up to Lake Tahoe. This is a day contrasted by breathtaking scenery, exciting kayaking and local floral and fauna. We make it fun and easy by doing the driving, providing great guides, and serving beverages en route to the staging area. Plan on day of both relaxation and excitement!
The Cost: Pricing is structured by group size, length of activity and type of tour. Packaged price includes planning, equipment, transportation, guide service, food and beverage, and any tickets required. Go to the Sierra Adventures price list for the latest information, then pay a deposit to secure your trip.
Dates and Restrictions: Activities offered by Sierra Adventures are subject to seasonal restrictions, weather cancellations, and your physical limitations. Call our toll free number - (866) 323-8928 - for more information. Remember to include your email and/or fax number so we may provide package updates, blackout dates or specific information related to your adventure.
Suggested Clothing and Gear: Sun Block / Sun Glasses / Change of Clothes / Hat / Water Booties / Swim Gear / Towel / Water Gloves / No Cotton Clothing.