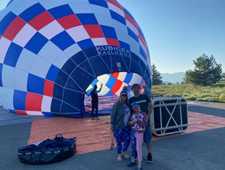 Hot Air Balloon Adventure >
Join Sierra Adventures for this classic flying adventure and see the towering Sierra as few others do.
Intro: Ballooning is a Nevada classic, providing the unforgettable feeling of warmth and glowing air as it rushes skyward into the early morning darkness. Your balloon comes to life and stands upright just seconds before whisking you into the heavens, rising up and up over the Sierra, and deep blue waters below. Faintly, the chatter of mountain quail, meadow larks, and blue jays fade as you drift over the dramatic contrasting scenery. Each breath brings the aroma of pine trees, alfalfa, and wood smoke softly lingering in the morning air. The mountains appear in all their splendor basking in the early morning sun as all to soon you drift slowly back to Earth.
The Tour: Your balloon adventure starts at pre-dawn with our complimentary weather check followed by a shuttle pickup at any local hotel. Pickup times are pre-dawn and vary with the season. We help make it easy, providing weather checks, transportation and a continental breakfast en route. Your weight, height and age is required for booking.
The Cost: Pricing is structured by group size, length of activity and type of tour. Packaged price includes planning, equipment, transportation, guide service, food and beverage, and any tickets required. Go to the Sierra Adventures price list for the latest information, then pay a deposit to secure your trip.
Dates and Restrictions: Activities offered by Sierra Adventures are subject to seasonal restrictions, weather cancellations, and your physical limitations. Call our toll free number - (866) 323-8928 - for more information. Remember to include your email and/or fax number so we may provide package updates, blackout dates or specific information related to your adventure.
Suggested Clothing and Gear: Camera Gear / Hat / Gloves / Shell Parka / Sun Glasses / Sweats / Binoculars.
Hot Air Ballooning in Northern Nevada