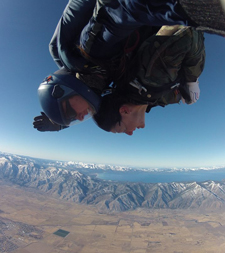 Sky Diving Tandem Adventure >
Join Sierra Adventures for an amazing tandem sky diving experience over Lake Tahoe and the High Sierra. Sky diving is an incredible adrenaline rush that will allow you to break free from 12,000 feet above ground.
Intro: Enjoy some of the best views of scenic Lake Tahoe in a well maintained spacious Cessna aircraft. Then take that leap and dive right into the scenery. Experience the incredible feeling of leaping from an aircraft and attaining speeds over 120mph while attached to a trained professional tandem jump instructor. Enjoy the amazing sensation of complete free-fall through the sky for nearly one full minute.
Then, your instructor will pull the parachute at 5,500 feet above ground. The excitement increases as you realize you now have 5 minutes of tranquil floating under the canopy. This will allow for an awesome site seeing adventure of Lake Tahoe and the High Sierra, unlike any other.
After you near the end of your decent, your instructor will safely pilot you to the ground for a soft landing. Before you leave, check out your sky diving adventure video and photo's with family and friends at one of the viewing stations.
Then, just relax and indulge in the amazing feeling of accomplishment.
The Tour: Your sky diving adventure begins with a complimentary weather check, followed by a shuttle pickup for your group at any local hotel. We whisk you off to the Airport in Minden located on the border of California and Nevada. After arrival you will begin your safety instruction and training, which will be brief but thorough. Once you are ready, suit up, and get on the plane for the ride of your life.
The Cost: Pricing is structured by group size, length of activity and type of tour. Packaged price includes planning, equipment, transportation, guide service, food and beverage, and any tickets required. Go to the Sierra Adventures price list for the latest information, then pay a deposit to secure your trip.
Dates and Restrictions: Activities offered by Sierra Adventures are subject to seasonal restrictions, weather cancellations, and your physical limitations. You understand that skydiving, parachuting, and aviation activities are hazardous. All Sky Diving participants must be 18 years of age or older. Weight restrictions of 220lbs applies. Call our toll free number - (866) 323-8928 - for more information. Remember to include your email and/or fax number so we may provide package updates, blackout dates or specific information related to your adventure.
Suggested Clothing and Gear: Camera Gear / Hat / Sun Glasses / Sun Screen / Binoculars.